Just an
awful performance
last week. It was a
flop
. I was
4-6 on winners, and a pathetic 3-7
against the spread. I'm not trying to be this bad, honestly.
I would be very thankful if I could just finish above .500 this week.
TCU +7 at #16 Texas
Have the Longhorns really turned it around, or have they just beat some weaker teams in the Big 12? Maybe a little of both? Believe it or not, Texas has a shot at the Big 12 championship if it wins its last two games (including Kansas State) and Oklahoma loses a game or two.
I don't think Texas will dominate TCU, because I think the Frogs' defense will show up for this one. I do think Texas will have just enough offense while TCU may not.
The pick: Texas 27-24
Georgia Tech +13 at #3 Georgia
Georgia has to be thinking about Alabama and a possible national championship berth, so it wouldn't be a shock to see the Bulldogs get a scare in a rivalry game. In the end, though, Georgia's defense should be enough to slow down the Tech option attack.
The pick: Georgia 31-21
#1 Notre Dame -6.5 at USC
If USC is going to ruin Notre Dame's dream season,
it will be this guy, not Matt Barkley, doing it.
So, Matt Barkley is apparently out for this game, which is too bad. People against Notre Dame (which, let's be honest, is everyone right now because of the BCS standings) would love to see USC bring ND back to the pack. I also think there's a part of every Notre Dame fan that would like to beat USC at its best and take down Barkley in his last regular season game. Oh well.
Can Notre Dame finish this off, or will the inevitable BCS chaos grab the Irish, too? The only thing I know about Max Wittek is that he's starting on Saturday at quarterback. I don't know what he'll be able to do against the Notre Dame defense. But based on what every other quarterback has done against Notre Dame, my guess would be "not a lot."
History indicates that USC will throw one more wrench in the BCS and bring the Irish back to the pack. Just when we think we have the BCS figured out, something crazy happens like it did last week. Everyone who is not a Notre Dame fan wants the Irish to go down, but I don't think Manti Te'o lets this team collapse after coming this far. The defense will be a nightmare for the young quarterback, and the Irish (I can't believe I'm saying this) will march on to Miami.
The pick: Notre Dame 24-17
#18 Rutgers +2 at Pittsburgh
Sneeze at Rutgers' schedule if you want, but the Scarlet Knights have played good defense and are 5-0 in the Big East while Pittsburgh is 1-4. While I don't expect many unbeaten seasons for Rutgers in the Big Ten, they'll get one step closer to one this week.
The pick: Rutgers 21-17
#19 Michigan at Ohio State -3.5
Braxton Miller is playing for an outside shot at the Heisman
and maybe even a split national title since OSU.
Every week, Ohio State has a small line, and every week I pick the Buckeyes. I'm not going against them now. People do realize that if Notre Dame loses, then Ohio State has a chance to claim the AP national championship, right? Michigan is banged up, and let's not forget Braxton Miller may try to make one last case to get invited to New York for the Heisman ceremony.
The pick: Ohio State 31-24
#5 Oregon -9.5 at #15 Oregon State
The Civil War doesn't mean quite as much as it would have a week ago. Oregon is now on the outside looking in at not only the BCS title game, but also the Pac-12 championship. The Ducks need to win and need a Stanford loss to get to play for a conference championship. Oregon will have a bounce back game, and I think the Ducks will try to run it up just to get some BCS style points. Let's be honest, they're going to do everything they can to convince voters to move them past all of those SEC teams in case Notre Dame loses.
The pick: Oregon 49-21
#4 Florida +7 at #10 Florida State
This game has serious national championship implications. If Florida wins, the Gators may very well meet the Alabama/Georgia winner (barring some very creative voting by people who do not want All-SEC again). Florida State may have too far to climb to get into the national championship, but I am curious to see exactly how high the Seminoles would jump if they got the win here. I still like Florida State's defense a lot (fifth in the nation in points allowed), and the offense isn't bad either (seventh in scoring). Florida's defense is just as good and maybe better, but the Gators' offense is inconsistent to say the least. I think that hurts them on the road.
The pick: Florida State 14-10
#21 Oklahoma State +7 at #13 Oklahoma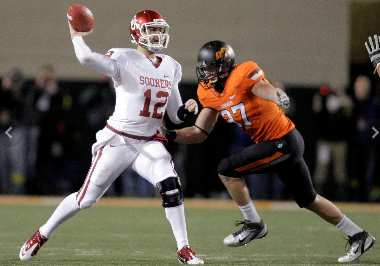 Bedlam did not go well at all for Jones last season.
He's coming off a career game against WVU, though.
Oh, Bedlam. What to think of this game? Oklahoma State has really found a groove offensively and should give Oklahoma a lot of problems. Landry Jones, though, is coming off an unbelievable performance against West Virginia. It seems crazy to think, though, that Bob Stoops could lose three games at home in one season. He had only lost three at home in his entire career at OU dating back to 1999 before this season began. I think it'll be close, but the Sooners will survive at home.
The pick: Oklahoma 38-35
#8 Stanford -2 at #17 UCLA
Stanford has to win this game to get to the Pac-12 Championship. UCLA does not, as the Bruins have already clinched the South with their win over USC. I think the performances will reflect that. Stanford will play inspired as UCLA looks ahead to the next week. The rematch in the championship game will be close, but I don't think this one will be.
The pick: Stanford 31-17
#12 South Carolina +4 at #11 Clemson
Once upon a time, it looked like South Carolina was bound for the BCS. It's unfortunate that injuries (and a brutal October schedule) slowed them down. The Gamecocks, though, have a defense that should challenge Clemson like ACC teams just haven't.
The pick: South Carolina 28-24
Have a happy Thanksgiving, everyone.