I had a
great rivalry week as I went 7-3 on winners and a season-high 8-2 against the spread
. Can I keep the momentum going in the final regular season weekend?
Doubtful.
I normally pick just ten games, but I'll pick every game that matters for the regular season finale.
Louisville +3 at Rutgers
Why it matters: Rutgers clinches the Big East's BCS bid with a win. A Louisville win would mean a tie at the top that would be decided by the BCS standings. That would mean Rutgers, Louisville, Syracuse, and maybe Cincinnati would look to the BCS rankings to decide who goes to the BCS, likely the Orange Bowl.
While I was high on Louisville (by Big East standards) earlier this year, the Cards have really fallen flat the last two weeks. Rutgers, though, looked awful against Pittsburgh last week. I'll take the Louisville offense against the Rutgers D in this one, but it won't be pretty.
The pick: Louisville 24-20
Cincinnati -5 at Connecticut
Why it (kinda) matters: Cincinnati could finish tied for the Big East championship if Louisville beats Rutgers. None of these teams, however, are in the BCS top 25. I would guess that in this scenario, Louisville would get the BCS bid. I don't think Cincy would have enough in its profile to have the highest BCS ranking, but I could be wrong. They'd get a sweet four-way tie championship shirt though... right? Plus, in two years, none of the teams they'd tie with would be in the Big East, so they could totally win it outright then.
The pick: Cincinnati 34-17
#21 Northern Illinois vs #17 Kent State +6
Led by 1,000-yard rushers Dri Archer and Trayion Durham,
the Kent State Golden Flashes could crash the BCS party.
Why it matters: The winner of this game not only gets the MAC championship, but also has a decent shot to finish in the Top 16 of the BCS standings. To remind you, any non-AQ champion that finishes in the Top 16 in the BCS
and
is ranked higher than an AQ champion (the Big East champ this year) earns an automatic BCS bid.
This possibility is especially true for Kent State, maybe not so much for Northern Illinois. These teams definitely want #16 UCLA to lose to Stanford, making some room to move up. NIU would also greatly appreciate #18 Texas (how are they that high??) losing to Kansas State and #20 Boise State falling to Nevada.
As for the game itself, both teams have very good rushing attacks, but NIU's superior defense should be the difference in a very close game.
The pick: Northern Illinois 33-30
#20 Boise State -9.5 at Nevada
Why it matters: Yes, Boise State can get into the BCS. Much like NIU, it's a long shot and they need some help, but the Broncos have
a chance
by winning in Reno. A win would mean Boise State would finish in a three-way tie with San Diego State and Fresno State for the Mountain West crown. Neither of those teams are ranked in the BCS. So, if by some chance Boise State moves up to 16, it would have the tie-breaker to earn the BCS bid.
I don't think a win will be enough to get the Broncos in the BCS, but Chris Petersen will have his guys ready. Boise was the overwhelming favorite to win the Mountain West, and they'll play like it. Will this be Petersen's last game in Boise? I haven't heard his name connected to many coaching openings, but I personally think every AD should give him a call. If I'm Petersen, I think I've done all I can in Boise and I go to a major conference instead of going into this mess known as the
Big East
.
The pick: Boise State 49-24
Middle Tennessee at Arkansas State -10
Why it matters: It decides the Sun Belt championship, as both teams are 6-1 in the league. There are no BCS implications. I'll take Gus Malzahn's Red Wolves to win big before Malzahn's name starts popping up in some of these offseason coaching searches. (I'm not sure he leaves after one year, but you'll hear his name.)
The pick: Arkansas State 44-31
Central Florida at Tulsa -2
Why it matters: It's the Conference USA Championship game, no BCS implications. The winner is headed to the Liberty Bowl. I suppose it's worth noting (ironically in a blog that picks against the spread) that Tulsa was shaken a little this week when
its athletic director was suspended after his name came up in a gambling investigation
. He may be fired by the time this game kicks off, but I don't think that will affect the football team that much.
These teams met two weeks ago in Tulsa, and the Golden Hurricane won 23-21. I think Bill Blankenship has done a great job since taking over for Todd Graham two years ago, and I think his guys are ready for this. They'll put the distractions aside and take care of business.
The pick: Tulsa 27-21
#16 UCLA +8.5 vs #8 Stanford
Why it matters: It's the Pac-12 Championship. The winner is Rose Bowl-bound, and the loser is very likely out of the BCS since Oregon is too good to pass up for an at-large selection.
I'm not saying UCLA knowingly quit against Stanford
, but I did say last week that Stanford had to win and UCLA did not. I thought the performances would reflect that, and they did in the Stanford rout. It's not intentional on UCLA's part. It's just human nature. A team with nothing to play for against a team with everything to play for is not going to perform as well. The Bruins will turn it up a notch this week, but I still don't think it will be enough against Stanford's defense.
The pick: Stanford 21-17
#18 Texas at #6 Kansas State -11.5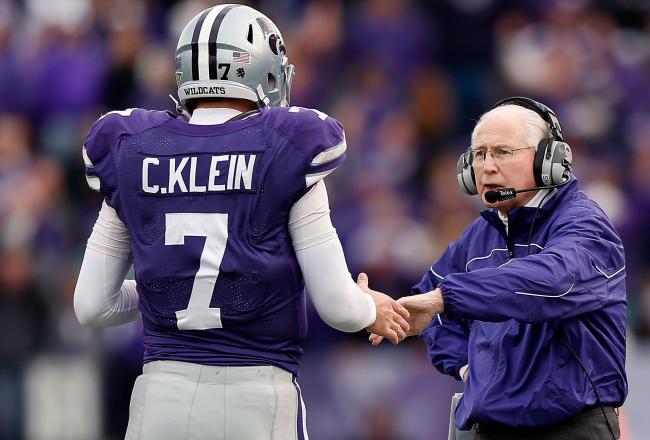 National title hopes are gone, but Snyder and Klein
can still bring Kansas State a Big 12 championship.
Why it matters: Kansas State clinches the Big 12 title with a win. They are currently tied for first with Oklahoma, but the Wildcats own the head-to-head tiebreaker. Texas is highly unlikely to get into the BCS, but a win here could get the Longhorns to the Cotton Bowl (where they would likely play Texas A&M). Kansas State is coming off a disastrous performance against Baylor, but has had two weeks to figure things out. Texas, quite simply, is not good. The quarterback play is a mess, and it's even worse with David Ash out. Kansas State will force turnovers and win easily.
The pick: Kansas State 38-17
#11 Oklahoma -6.5 at TCU
Why it matters: Oklahoma could win the Big 12 or at least solidify itself as a BCS at-large with a win. As long none of those non-AQ's sneak up to 16, Oklahoma is almost a lock to go to a BCS game (likely the Sugar Bowl). If Kansas State loses, the Sooners would win the Big 12 outright and be on their way to the Fiesta Bowl. So, yes, the Sooners find themselves in the position of cheering for Texas.
TCU played a great game against Texas. The Horned Frogs' D has really played well, but Oklahoma is not as inept at quarterback as Texas. On the contrary, Landry Jones has played some of his best football lately. I think he'll finish strong and get OU into the BCS.
The pick: Oklahoma 35-24
#13 Florida State -14 vs Georgia Tech
Why it matters: It's the ACC Championship and the winner heads to the Orange Bowl. Florida State had a rough day against Florida, but Georgia Tech doesn't offer half the challenge Florida did. The Yellow Jackets had a rough time against Georgia, and I don't think this one goes much better.
The pick: Florida State 35-10
#12 Nebraska -3 vs Wisconsin
Why it matters: It's the Big Ten Championship, with the winner earning a trip to the Rose Bowl. These two teams met earlier this year, and Nebraska started off slow only to rally to win 30-27. I think Nebraska is clearly the better team and will show up much more prepared against Wisconsin this time. The Badgers have improved, though, over the course of the season, but not enough to get to the Rose Bowl.
The pick: Nebraska 27-21
#2 Alabama vs #3 Georgia +7
Most people assume Alabama will win this game, but do not
sleep on Aaron Murray and this talented Georgia team.
Why it matters: pretty obvious, no? The winner is the SEC champion and goes to Miami to face Notre Dame for the BCS championship. Georgia hears everyone anointing Alabama the national champions before this game has even been played. If you look at Georgia's body of work, it's really similar to Alabama's. I'm not saying Georgia is better, but it's closer than most think. Georgia is playing close to home and will give Alabama all it can handle. For the sake of my family members in Georgia, I think it would be great to see the Dawgs win, but I think Alabama is just one score better.
The pick: Alabama 24-21
(ducks as my mom's family starts throwing things)
See you back here for the bowl picks.